RANKINGS UPDATE: Through 11/19
Nov 19, 2021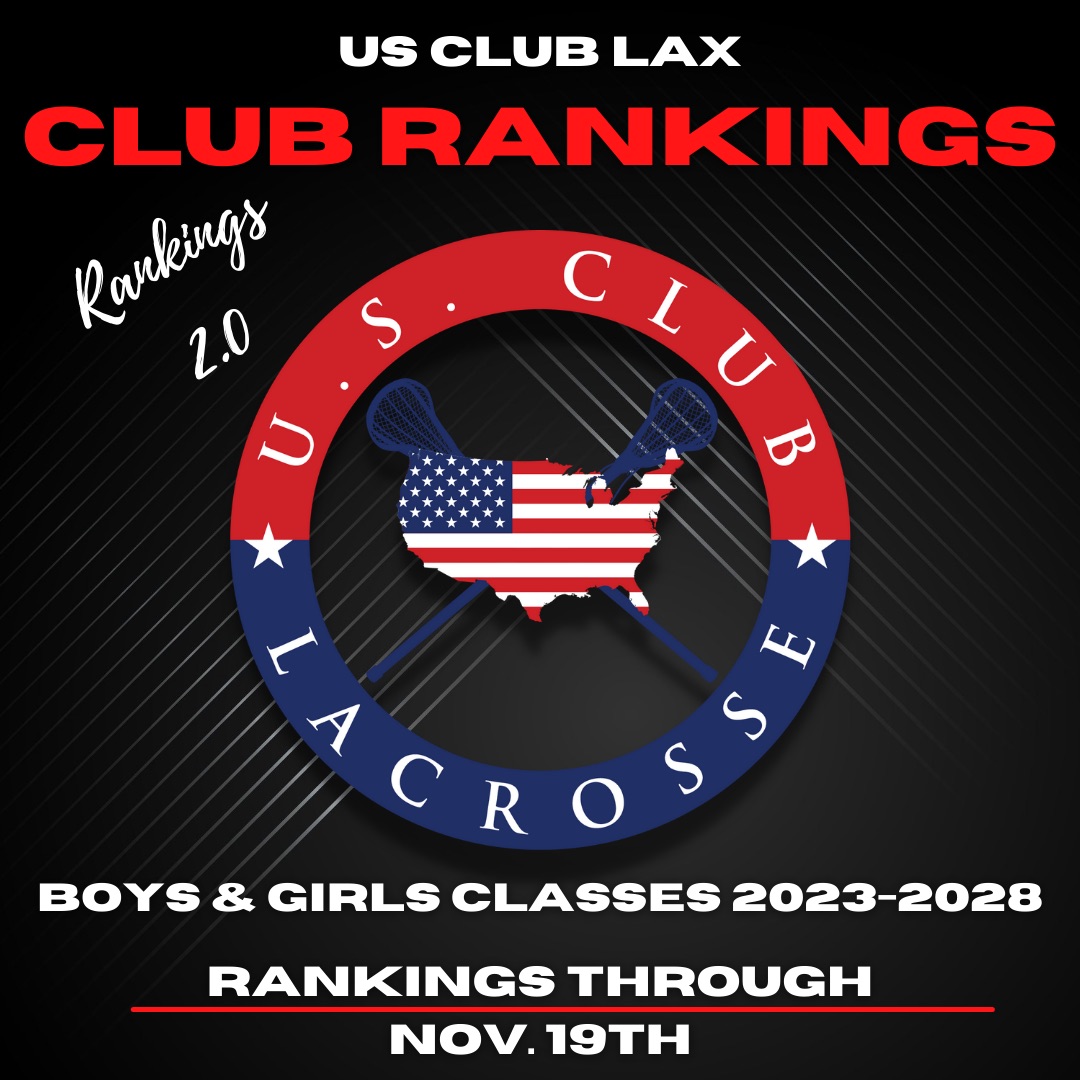 RANKINGS UPDATE: Through 11/19
After Version 1.0 of the USCLUBLAX 2021-22 rankings were released last week, we had an overwhelming number of new game submissions and game score corrections, which only helps the release of this week's rankings. The more accurate data we have, the more accurate our rankings are and with nearly 10K games from 135+ national events for the 2023-2028 age levels, we are seeing improvement. However, the data we collect must be able to be verified by either a third party scoring platform (i.e. Tourney Machine, Team Sports Info, etc) or must be submitted directly by the Tournament Director in order to settle any scoring disputes.
Onto Version 1.1 of the USCLUBLAX rankings, where we have more teams achieving the six (6) game minimum to appear in the rankings. It is important to remember that these rating based rankings are based off of an algorithm that emphasizes strength of schedule and average goal differential (10 goal max). This means that a team's rating can be altered even without any new games being added for that team. Who a team plays and the performances of those teams will impact another team's rating. This is why you may see some teams rise or fall in the rankings as more data is collected or corrected.
With that being said, let's dive into the rankings:
BOYS 2023 (Click here to view)
Last weekend, The undefeated Baltimore Crabs edged out The MADLAX DC DOGS 7-6 at the NAL Fall Invitational and are now hold the #1 spot for the 23s. 3D New England Red also entered the top 5 with strong showings at NAL Fall and the 3D Fall Classic. The DC Dogs have fallen just short in a few tough games against top competition, which keeps them at the #3 spot. HHH also makes a debut in the 2023 Boys rankings.
Top Teams
BOYS 2024 (Click here to view)
The computer has 3D New England Red & Headlines Navy currently atop the Boys 2024 rankings with undefeated records, high AGD and strong strengths of schedules. As we gather more data, you may see the likes of #7 Next Level Blue, #8 LI Legacy TAZ, #9 LI Express Schwalje creep up as these clubs are playing some highly competitive talent. Ascension and Denver Elite Silver are still holding strong in the top 10.
Top Teams
BOYS 2025 (Click here to view)
The Annapolis Hawks Green team jumped up from 8 to #2 after a strong performance at NAL this past weekend. However, the true surprise would be the Vulcan Lacrosse Club from the south, who is outsourcing opponents 67-8 this year through 7 undefeated games and currently is scored as the top team. #4 LI Express Channy, #5 BBL Elite Black, #7 Next Level Blue make their rankings debut in the top 10.
Top Teams
BOYS 2026 (Click here to view)
The top 3 of the Boys 2026 rankings remain unphased as #1 LI Express Channy, #2 Baltimore Crabs, & #3 Sweetlax Upstate NY all stay put. Making their rankings debut are #4 DC Express Black who went 3-1 at NAL Fall and #5 Leading Edge who is posting impressive 13-3 record.
Top Teams
BOYS 2027 (Click here to view)
West Coast Starz Gold claims the #1 spot and 2Way Black drops to #5 even though neither had any new games scores, which is a classic example of how the computer adjusts team's ratings based off of a change in the strength of schedule. Both teams remain undefeated but what their past opponents have done affected their spots in the rankings. Team 91 LI Machine makes their debut at #2 after a dominant 4-0 performance at the NAL Fall.
Top Teams
BOYS 2028 (Click here to view)
Madlax Capital holds the #1 spot and right behind them is #2 West Coast Starz for the 2028 Boys. 3D New England jumps into the top 5 with a 13-1 record and 4.00 AGD at Atlantic Elite, Sweet 16 and Colonial Clash.
Top Teams
GIRLS 2023 (Click here to view)
A whole new look for the Girls 2023 rankings as results from MidAtlantic Showcase & Lax for the Cure shook things up. Top 5 goes as following: #1 Sky Walkers Blue, #2 Monster Purple, #3 NXT Black, #4 LI Legacy Blue & #5 Steps Elite NJ Blue.
Top Teams
GIRLS 2024 (Click here to view)
A tight race for sure near the top as NEMS takes the early lead for the #1 spot. Yellow Jackets Wiener, Hero's Green and M&D Black are very close behind. Many of these teams are playing this weekend so we can expect to see plenty of opportunity to gain ground.
Top Teams
GIRLS 2025 (Click here to view)
Hero's Green has an impressive AGD of 5.42 against some powerhouse teams like #4 Prime Time, #6 M&D Black #13 Rochester Aces. #2 Mass Elite Red and #3 Steps Elite NJ Navy are also having a great start to the season.
Top Teams
GIRLS 2026 (Click here to view)
After beating last week's #1 team 12-0, STARS Light Blue is now the new #1 in the GIrls 2026 rankings. This team has shown up to play against everyone. Their only losses are by one goal against #2 LI Jesters Black, and #3 M&D Black.
Top Teams
GIRLS 2027 (Click here to view)
Not a lot of change at the top other than a flip flop of the #1 & #2 teams based off a drop off in strength of schedule as more data is collected. Hero's White also jumped into the top 5 right behind #4 Hero's Green.
Top Teams
GIRLS 2028 (Click here to view)
Coppermine Black #3 & Monster National Purple #4 have strong debuts in the 2028 girls rankings after strong showings at the MidAtlantic Showcase. Eagle Stix Blue and M&D Black hold the line at the top.
Top Teams
Use the search function in the upper right hand corner to find your Club/Team
Don't see your club listed? Request New Club HERE.
Team and score corrections for 2021-2022 season can be made by selecting the FIX icon located on each team page.
If you have any questions that can not be answered by the FAQ, please feel free to CONTACT US.