US CLUB LAX NATIONAL CHAMPIONSHIP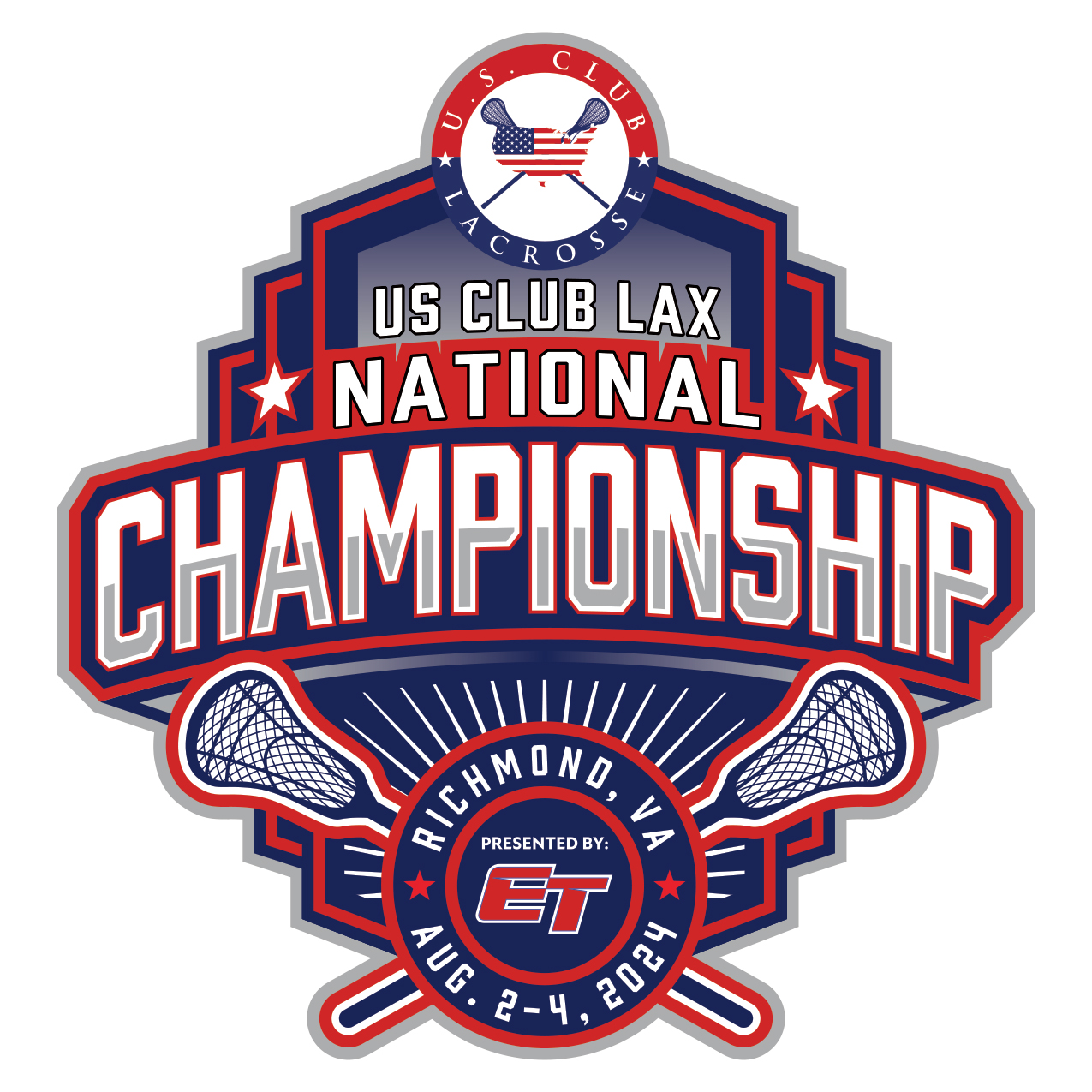 US Club Lax National Championship
Event Details:
The top 16 teams in each age group will be invited to participate in the event based off of the U.S. Club Lacrosse rankings.
Dates:
July 19
th
-21
st
, 2024
Opening Ceremony: July 18th from 6pm-9pm
Pool Play Games: July 19th-20th from 8am-8pm
Consolation/Semi Finals/Finals: July 21st from 8am-4pm
Location:
Richmond, VA
Eligibility:
U12-U17 Boy's and Girl's
Youth must be by birth year
High school must be by grad year
All players must have a USA Lacrosse membership. USA Lacrosse numbers will be verified in the rostering process
Rosters are due 30 days prior to the tournament!
Application Fee:
$1,800 per team
Contact:
Birth certificate or Passport submission will be required by each player
U12 Born after 1/1/2012
U13 Born after 1/1/2011
U14 Born after 1/1/2010
U15 Graduation year 2028
U16 Graduation year 2027
U17 Graduation year 2026
Partnerships or alliances between two or more clubs to create the qualifying team is not permitted
All roster eligibility rules will be enforced at the discretion of the U.S. Club Lacrosse National Championship Staff
No double rostering is allowed
Roster size will be capped at 30 total players for boys and 24 total players for girls with a max of 28 field players and minimum of 2 goalies at all times
The only permitted roster modification after submission of the final roster will be the replacement of an injured goalie with another goalie pending a written request and approval
Copies of birth certificates, verification of health insurance accepted in the United States and waiver forms must be submitted prior to participating in a regional qualifier
Any team in violation of the above roster rules will forfeit all games in which the ineligible player has participated plus forfeit any opportunity to advance to the playoffs and forfeit any accolades or titles received by the team
Any team that forfeits a game during the tournament will be ineligible to advance to the playoffs
Game Format
All games will be 4-11 minute running periods with 2 minute halftime. Games will start on time.
Each team will receive one 45 second timeout each half
Timeouts will not carry over to the next half
The clock will stop for timeouts
Timeouts can only be called in offensive zone or during a dead ball
Games with goal differential of 2 or less will have stop time in the last 2 minutes of the game
All games ending in a tie will go into a 8 minute sudden victory overtime period

Teams will start at the opposite sideline from where they finished the games. If no goals are scored after the 8 minutes a one minute break will ensue and teams will change ends
Teams will have one timeout per 8 minute overtime period
Rules
2023 NFHS rules enforced, including equipment
Sticks must meet NCAA or NFHS standards
Stick checks will not be mandatory by the officials
Coaches can request a stick check at any time
If the stick is found to be illegal, the appropriate penalty will be assessed. A timeout will be deducted if the stick is found to be legal. If no timeouts remain, then a 30 second technical foul will be assessed.
Any player, fan or coach ejected from a game will have a minimum of a 1 game ban. Full penalty is at the discretion of the tournament director.
Fighting is an automatic ejection from the game and tournament.
Noise makers are not allowed at any time (horns, whistles, sirens, cowbells, etc). Offenders will be asked to leave the field.
Forfeits will be considered a 1-0 victory for the team that is prepared to play

The forfeiting team will be ineligible to advance to the playoffs

A maximum of four coaches are allowed on the sideline of each team. If a team has more than 4 coaches on the sideline they will be asked to leave the field.
A 20 second clearing count will be used. On a change of possession, a timed count will begin. At 20 seconds the ball must be in the offensive half of the field. The over and back rule will be in effect at that time.
NCAA Rules will be in effect regarding "Goal Crease Prohibitions" (no crease dives permitted)
Substitution Box will be 10 yards in accordance with NCAA rules
Tie Breakers will be as follows:

Within Pools: Record
Head-to-Head
Goals Allowed
Goal Differential
Goals Scored
Coin Flip

Tie Breakers within Divisions are as follows

Record
Pool Place
Goals Allowed
Goal Differential
Goals Scored
Coin Flip

Max score differential per game will be capped at 10 goals
Scoring Policy
A field marshal is assigned to each field to keep score. Coaches of both teams and the on-field officials are to confirm the score. At the conclusion of the game, they will sign the game card. Once confirmed, the field marshal is responsible for reporting scores to the tournament director!
All scoring issues/disputes must be addressed on the field during or immediately following the game. The Tournament Director/Official may be requested by a coach to the field as needed via the Field Marshal.
Girls Only Yellow/Red Card and Penalty Policy
If a player receives 2 yellow cards, the player must sit out for the remainder of that game, but may participate in the next tournament game for their team.
If a player receives 1 red card, the player must sit out for the remainder of that game. The Head Official and Tournament Director will determine if the player will be permitted to play in any remaining games.
If a team accumulates 4 or more cards in one game, they must play a player down for the remainder of the game. For each additional yellow card, another player will sit out for the remainder of the game.
If a penalty is deemed as vicious, intentional, hateful, officials have the right to request tournament dismissal. The Tournament Director & Head Official will decide the level of penalty.
General Responsibility and Conduct
Athletic trainers are available for emergencies and tournament injuries only. Athletic trainers are not permitted to tape prior injuries.
Only the head coaches are permitted to address the officials. Coaches are expected to do so in a courteous manner. Please treat all officials, opponents, spectators, and tournament staff with the same respect that you would like to be shown.
Verbal abuse of officials and staff from players, coaches, or spectators will not be tolerated. Flagrant violations may result in a team disqualification at the tournament director's discretion; no refunds will be given to any team that is dismissed.
Water Break Protocol
U.S. Club Lacrosse National Championship staff monitors the weekend weather very closely for each tournament to ensure the safety of all participants. In the event of high temperatures during gameplay, a 1-minute on-field water break will be implemented at the tournament director's discretion each quarter. The clock will not stop for these breaks.
Inclement Weather Policy
Inclement weather is out of the control of tournament directors, officials, and site managers. Safety is our number one concern. In the event of thunder and/or lightning, all games will be suspended for 30 minutes from the last occurrence. Games will resume at their regularly scheduled time. Adjustments to the schedule may be made depending on duration of delay.
The tournament will be held in the rain. In the event of heavy rain, it is up to the facilities we are renting from to determine if play is permitted on the field or not. The tournament directors will work to ensure all games are played, however, the facilities have the final say.
Refund Policy
Once teams accept their invitation to the tournament and submit payments, no refunds will be given.
Weather Refund Policy
While every attempt to play each event will be made, weather and other unforeseen circumstances may prevent an event from being completed, or in some cases, even starting. The US Club National Championship reserves the right to shorten or alter game schedules in order to complete as many games as possible.
At minimum, 75% refund will be given to teams that do not start any game in an event.
A 50% refund will be given to teams that have completed 1 game.
No refund will be given to teams once they have played 2 games.
Housing Policy
Teams competing in the US Club Lacrosse National Championship will be required to reserve a minimum of 14 rooms for 2 nights through Halpern Travel to be eligible to participate in the tournament.
Teams that are based within a 75-mile radius of the tournament venue and are planning to commute are exempt from complying with the tournament housing policy. Addresses used for the determination of the distance will be the address of the tournament venue and the club's physical address.